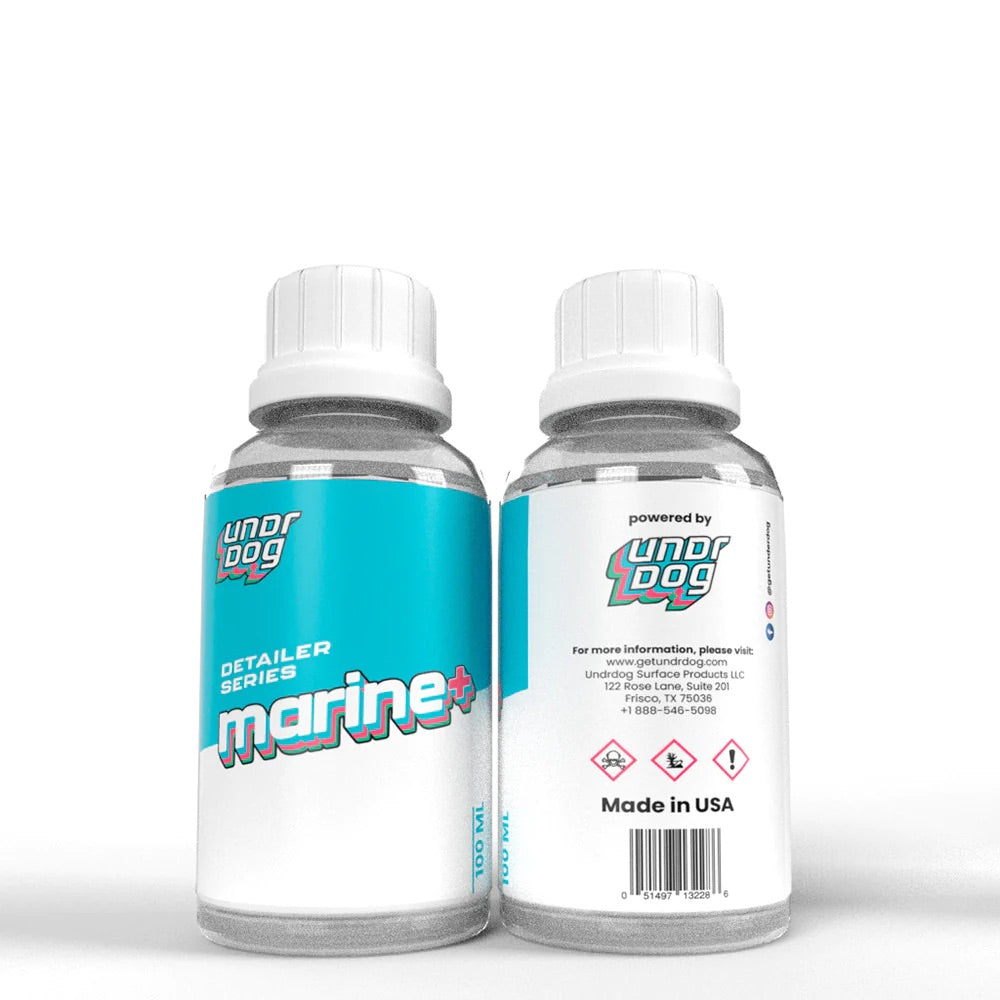 Undrdog Marine+ Plus
The Best Professional Grade Marine Protective Coating
An innovative professional marine coating to keep vessels looking glossy, protected from the elements and easily maintainable for up to 2 years.
Pickup available at HQ
Usually ready in 24 hours
HQ
Pickup available, usually ready in 24 hours
9010 Concession Road 4
Sandford ON L0C 1E0
Canada
+14164073969
*** Authorize Installers only, use discount code on checkout****
Marine + is an evolution from our Marine coating. You'll experience greater chemical resistance, increased gloss, hydrophobicity and slickness. This is truly a professional grade product meant for all types of gel coat, fiberglass, metals vinyl and much more. 

We stuck with our single-layer methodology to ensure efficient installation. However, the mean protective punch that Marine + provides comes with a shorter flash time. This is why we strongly recommend that only Professional Detailers and Auto Shops purchase this product.

Trust us - this is something you want the pros to handle. 
X2  Chemical Resistance
Increased Slickness
Higher Hydrophobicity
More Gloss
More Depth
Dry time: 24 hours
Cure time: 5 days
WHO IS UNDRDOG MARINE+ GOOD FOR?
Undrdog Marine+ is a product we strongly recommend for seasoned coating installers and detail shops only. If you're a weekend warrior or car enthusiast, Undrdog Marine will be a better fit for you.
HOW DIFFICULT IS IT TO INSTALL UNDRDOG MARINE+?
We stuck with our single-layer methodology to ensure efficient installation. However, the mean protective punch that Marine+ provides comes with a shorter flash time that only pros can handle.
HOW BIG OF A BOAT CAN I COAT WITH 100ML OF UNDRDOG MARINE+?
Anywhere between 25-35ft, depending on the type of boat.
WHAT SURFACES CAN I APPLY UNDRDOG MARINE+ TO?
Undrdog Marine+ protects all surfaces including vinyl, plastics, metal, and glass. However, it is not advised to use it on fabrics.
CAN I INSTALL UNDRDOG MARINE+ ON VINYL WRAPS?
Absolutely! Undrdog Marine+ absorbs into vinyl and protects it from stains and fading.
WILL UNDRDOG MARINE+ MAKE THE DECK OF MY BOAT SLIPPERY?
It depends on the type of deck. The standard grated non-skid deck won't be slippery, but roll-on sand non-skid will be. As for synthetic decks, it's moot to coat them with any coating on the market.
WHAT HAPPENS IF IT RAINS IMMEDIATELY AFTER INSTALLATION?
Things happen. If it rains on your boat within 24 hours of having it coated, dry the surface with soft microfibers as soon as it stops. This will prevent the occurrence of water spots and any potential damage to the coating. 95% of the time no damages occur, but in the event they do, you can apply another layer.
HOW LONG WILL MY VESSEL BE PROTECTED?
With proper maintenance, Marine+ can last up to 5 years. However, you can expect a reduction in longevity if the coating is neglected or maintained using improper aftercare methods.
HOW DO I MAINTAIN UNDRDOG MARINE+?
To get the maximum performance and longevity, the following is recommended:
Regular vessel washes with our Soap and a soft wash mitt.
Regular usage of our Quick Detail, a product that can add some slickness and hydrophobicity for those looking to get the most out of their coating.
HOW CAN I REMOVE UNDRDOG MARINE+?
A quick polish will remove the coating. From there you can reapply the coating or carry on with raw, boring paint.
HOW DOES UNDRDOG MARINE+ COMPARE TO UNDRDOG MARINE?
Both Undrdog Marine and Undrdog Marine+ are based on Polytetrafluoroethylene - (C2F4)n, Silicon, and Paraffin to create the trifecta of awesomeness: durability, performance, and value. So the difference between them isn't the chemical composition itself - it's the ratio of ingredients.
The concentration of silicon (the "ceramic" in ceramic coatings) is higher in Undrdog Marine+. Because of this, Undrdog Marine+ is more durable, provides better chemical resistance, boats higher hydrophobicity, more gloss, and extra paint saturation, as well as slickness!
WHAT IS THE SHELF LIFE OF UNDRDOG MARINE+?
If stored in a cool, dry location, an unopened bottle of Undrdog Marine+ can last up to 2 years. An open bottle with the lid tightly closed lasts up to a year.
DO I REALLY NEED TO WEAR GLOVES AND PROPER SAFETY GEAR?
Yes, when working with any chemical including ours you should wear gloves and respiratory wear. No two bodies are alike and it is better to be safe than sorry.
WHAT'S NEEDED
Brand new microfiber towels
Applicator pads
Wax & grease remover or denatured alcohol
Adequate lighting
Timer
Gloves
Face Mask
Installing Undrdog Marine + is pretty straightforward. Let's go through the steps.
TO START
1- First, prep the surface. Wipe it with denatured alcohol or a body shop wax & grease remover using fresh microfiber towels. Once finished you may begin coating.

2- Drip as many drops of Undrdog Marine + as it takes to get your applicator pad fairly saturated (generally ±30). Apply more product to the pad as needed throughout the process to maintain an even coating.

3- To begin, apply the coating to one panel in a cross-hatch (#) motion. This means moving the applicator pad in a vertical and then horizontal motion to ensure total coverage.

4- Once the area is coated, wait 2-3 minutes before using fresh microfiber towels to buff away the residue. We recommend the three-towel method for this process - if you're a pro, you know.

5- Allow the coating to dry for 2-5 hours before delivering the vessel to your client.
IMMEDIATE AFTERCARE
The vessel should remain dry for at least 24 hours after coating installation and not be washed with strong detergents for at least 5 days. Once the curing process is complete, use a PH-balanced soap for stripping dirt and grime to maintain the coating.

Important: Be advised, using Undrdog Marine + requires previous experience with coating installation.
CLASSIFICATION OF THE SUBSTANCE OR MIXTURE


DANGER!

H225 Highly flammable liquid and vapour. H315 Causes skin irritation.
H318 Causes serious eye damage.
H335 May cause respiratory irritation. H336 May cause drowsiness or dizziness.
PRECAUTIONARY STATEMENTS GENERAL:
P210 Keep away from heat/sparks/open flames/hot surfaces- No smoking. P233 Keep container tightlyclosed.
PREVENTION:
P240 Ground/bond containerand receiving equipment.
P241 Use explosion-proofelectrical/ventilating/light/equipment.
P242 Use only non-sparking tools.
P243 Take precautionary measures against static discharge.
P260 Do not breathing dust/fume/gas/mist/vapours/spray.
P264 Wash thoroughly after handling.
P270 Do not eat, drink or smoke when using this product.
P280 Wear Protective gloves/protective clothing/eye protection/face protec- tion.
RESPONSE:
P303 +P361 +P353: IF ON SKIN (or hair): Remove/Take off immediately all con- taminated clothing. Rinse skin with water/shower.
P332 + P313: IF SKIN IRRITATION: Get medical advice/attention.
P362: Take off contaminated clothing and wash before reuse.
P304 + P340 + P312: FI INHALED: Remove victim to fresh air and keep at rest in a position comfortable for breathing. Call a POISON CENTER or doctor/physician fi you feel unwell.
P305+351+338+310: IF NI EYES: Rinse cautiously with water for several minutes. Remove contact lenses fi present and easy to do - continue rinsing. Immedi- ately Call a POISON CENTER or doctor/physician.
P370 + P378: IN CASE OF FIRE: Use dry sand, chemical foam, dry chemical and carbon dioxide for extinction.
STORAGE:
P403 + P233: Store in a well ventilated place. Keep container tightly closed. P403 + P235: Store in a well ventilated place. Keep cool.
P405: Store locked up.
DISPOSAL:
P501 Dispose of contents/container in accordance with local/regional/nation- al/international regulations.